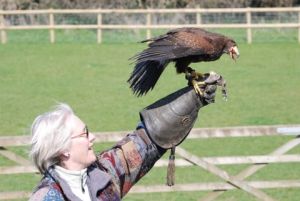 Mary Rodríguez graduated from the University of Glasgow with an Honours degree in Hispanic Studies followed by a post-graduate qualification in teaching methodology. After teaching for some years both in Scotland and in Spain, life's twists and turns led her towards translating and interpreting as this is a profession she could pursue wherever life took her, particularly with the advent of the internet. She worked as a freelance translator for UNESCO in Paris as well as in the commercial and legal fields.
Seeking solutions to the ailments of her pets, including at one time a goat, chickens, and ducks as well as dogs and cats, she began to explore aromatherapy and homoeopathy with Hala Sioufi and the homoeopathic organisation in India "Enlightenment Education" pioneered by Dr. Jahawar Shah. Recently she was honoured to be named an honorary member of the Association of Homoeopathic Veterinary Medicine in Spain.
A deep-seated interest in things spiritual brought her into contact with Reiki, aura visualisation with Dr. Cristian Salado of Cuba, meditation and the impact of sound in healing.
Faced with the challenge of extreme separation anxiety in a young dog, TTouch® seemed to offer the kind of approach that Mary found acceptable. A first course with Robyn Hood, Linda Tellington-Jones's sister, at Tilley Farm, the centre run by Sarah Fisher near Bath in England, proved so inspirational that she embarked on the full training programme and completed her training in the U.K., Canada and Switzerland with Robyn Hood and Kathy Cascade. She later took an advanced training with Linda Tellington-Jones as well as trainings with Edie Jane Eaton with whom she also collaborated at a training in Switzerland. Her early experience in teaching has proved invaluable too in order to transmit clearly the TTouch® philosophy and techniques.
She has taught in a number of countries including Argentina, Brasil, England, Finland, Mexico, Portugal, Slovenia, Spain and Uruguay.
Soon after completing her training in the Tellington TTouch Method®, she took a diploma in applied zoopharmacognosy with Caroline Ingraham which has taken her previous work with plants and essential oils in a new direction complementing TTouch work perfectly.
In recent times she has been working online offering webinars on a variety of topics related to animal education and wellbeing as well as interpreting for a wide range of internationally renowned speaks in the field of positive reinforcement training, such as Turid Rugaas, Ken Ramirez, Dr. Susan Friedman, Dr. Chris Pachel as well as colleagues from the TTouch® community such as Robyn Hood, Rachel Jackson, Dr. Daniella Zurr and Lisa Leicht among others. Another initiaative in recent times has been working with students at the Interamerican Open University (UAI) based in Buenos Aires.
She has also written the first book in Spanish on applied zoopharmacognosy and translated the books of Robyn Hood and Mandy Pretty "All Wrapped Up" and "Harnessing Your Dog's Perfection". The Spanish versions are due to be released in the course of 2022.
We Offer the Following Services:
One Day Workshops on "Introduction to TTouch"
Two day courses to further develop TTouch techniques
Half-day & One Day Workshops on specific topics e.g. noise sensitivity, fireworks, thunderstorms etc.
Private Consultations (in person and online)
Private TTouch Sessions
Webinars on specific topics e.g. anxiety, reactivity, multi-dog households, stress etc.
Online courses
If you would like to organise a workshop in your area or would like to arrange a private consultation for your pet, please contact me.
I look forward to working with you!