Our webinars were born as a way of satisfying the concerns of students. Each person's situation is different, and often we come up against situations which we do not feel confident enough to deal with. As students brought up their lists of topics, e.g. anxiety, reactivity, living in multi-animal households etc., it became clear that webinars would be an excellent platform for this.
Even if you cannot attend the live webinar, the recording will be available and can be accessed at any time. During and after the webinar some students have specific queries, and we do our best to answer those either in a subsequent webinar or in writing.
Evergreen Webinars
(Scroll down to select and Click to access)
Ten minute TTouch Sessions
This is a series of 10 minute TTouch sessions, one for each day of the week which you can do with any species of animal – horses, dogs etc. Just click on the links below.
This short online chat is the result of people expressing their concerns about how confinement and isolation were affecting them, particularly at the mental and emotional level.
We have aimed to suggest some tools that we may think of using to alleviate these situations. Although the initiative was born out of the exceptional circumstances that we are living through at the moment, similar situations – isolation, frustration, sadness, frustation and fear – may arise at any time in our lives, so these suggestions may prove useful at any time when we need a little support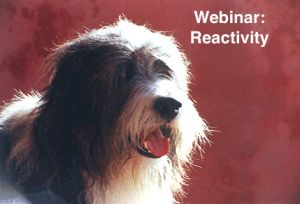 In this webinar we shall examine what reactivity is and the many ways in which it may manifest in the animals who share our lives or that we work with. Then we will explore the many options available to us using Tellington TTouch and zoopharmacognosy to help our pets find more acceptable responses to situations which they find overwhelming and difficult to cope with.
In this webinar we shall be taking a look at environments where two or more animals share the same space. This may give rise to some specific problems, so we shall examine some of them and see how using applied zoopharmacognosy and Tellington TTouch, as well as some other therapies, can help us overcome the situations which may arise.