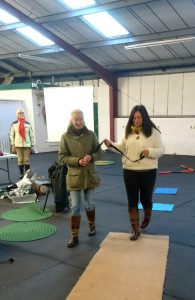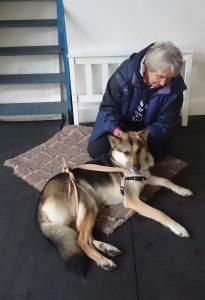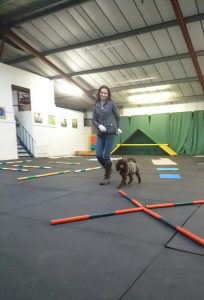 Last week we had a wonderful two days exploring Tellington TTouch in Hexham in Northumberland in NE England. It is always inspiring to meet  such committed people, and this was certainly the case at Fourstones where we had a number of rescue dogs. Fear, anxiety, fear of being touched and impaired movement were a few of the issues these lovely dogs gave us the opportunity to address.
Lovely Pearl felt secure enough to leave her person's lap after experiencing a half body wrap. Blue's gait changed with the application of wraps and scrunchies, and he gave us the chance to see just how individual each animal is and how important it is to try various options as different wrap configurations and different types of scrunchies may have different effects.
TTouch groundwork is always a little challenging for people the first time around as it forces us to break old habits and adopt sometimes quite new approaches to handling, but everyone rose to that challenge and, as they relaxed, it was clear to see how the change in the people had a corresponding effect on the dogs. Trying out the techniques on people is a good way to experience how the dogs may feel and to develop clarity of signalling and direction.
It was delightful to work with such a participative group of owners and, as always, our greatest debt of gratitude is with the dogs without whom we would not be able to learn.